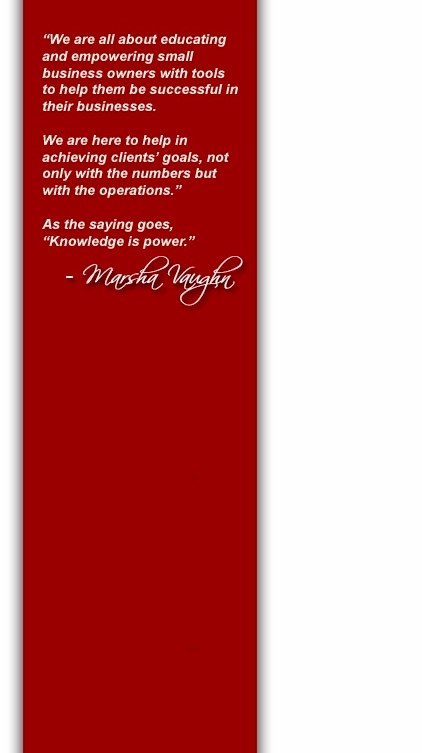 "Marsha of Bookkeeping Partners has phenomenal patience and a wondrous understanding of what she does in the accounting world. Coming from one who has an extremely difficult time with accounting lingo and processes, it has been a great pleasure to have been referred to Marsha. She gave true dedication to clearing many issues and getting my company's accounting back into what it should have been where others had not followed through with their responsibilities. Clearing back months of reconciliation and inappropriate tracking in no time at all. She is a complete asset to my business."

Laura Hinson
Eagle Road Service

"We are very excited to be working with Marsha and her team at Bookkeeping Partners. Not only do we feel confident that our books are in order, but her business insight is proving to be a great asset for our firm. I would recommend their services to any business needing accounting and/or coaching support."

Becky Heidesch,
Founder, WSS Executive Search

"Marsha's not only knowledgeable, efficient and reliable, she's also a pleasure
to work with."

Doug Behm, Attorney
Behm Law Firm
Scottsdale, AZ

"Bookkeeping Partners has been handling the bookkeeping for my small business for over 4 years. Marsha's knowledge and flexibility are the reasons I have continued to use the services of BkP."

Barbi Harner
In The Basement
Video Assets Management

"Marsha has been doing my company books since 2008. She brings her expertise, sense of humor and knowledge to the table. She saves me both time and money. I am thoroughly satisfied with her skills and recommend her without hesitation."

Bill Slater, Owner/Editor
Edit Alchemy LLC
Phoenix, AZ

"I have had the pleasure of using Marsha for bookkeeping and as an office manager for over 15 years. Marsha has integrity, is highly competent, professional, thoroughly knowledgeable in her field and a great asset to my business. She takes chaos and makes order and handles all those highly pesky tasks I don't have time for. She always goes the extra mile, and I am grateful for Marsha".

Jenelle Bonifield
President
Green Rabbit Design Studio, Inc.